This post may contain affiliate links which means I may receive a commission from the purchases made through links. I will only recommend products I have personally used! Learn more on my Affiliate Disclosure page. 
We found some of the best Jacksonville Beach Brunch restaurants that you might enjoy.
The Maple Street Biscuit Company, famous for its mouthwatering biscuits, gravy, and fried chicken, this spot emanates a casual and welcoming atmosphere that's perfect for families and friends. You'll adore the Southern-inspired cuisine, which stands out with its unique, biscuit-centric menu. Generally, it's open for brunch from 7 am to 2 pm.
For a classic American diner experience, the Metro Diner is a must-visit. With its comfortable, laid-back ambiance and its retro charm, this venue is a crowd-pleaser. The hearty meals are always a delight, and with a menu that caters to every taste, there's something for everyone. Brunch typically runs from 7 am to 3 pm.
If you fancy something on the healthier side, the First Watch daytime café is your destination. Offering delicious brunch options like avocado toast, power bowls, and smoothies, the place has a casual, upbeat atmosphere with a modern touch. It's usually open for brunch from 7 am to 2:30 pm.
Southern Grounds, a charming neighborhood coffee shop, is another excellent spot for brunch. This venue emanates a relaxing and homey vibe, offering brunch options like sandwiches, pastries, granola bowls, and high-quality coffees and teas. They also offer the famed Iced Matcha Latte. Typically, it's open from 6:30 am to 7 pm.
For a more luxurious brunch experience, Casa Marina, in a historic hotel, provides an elegant Sunday brunch buffet. The classy and sophisticated atmosphere is enhanced by captivating beachfront views, and the variety of gourmet dishes ensures an unforgettable experience. Brunch is usually served on Sundays from 10 am to 2 pm.
Stop by the North Beach Fish Camp for a seafood-centric brunch with Southern influences. You'll appreciate the lively, rustic environment complemented by stunning ocean views. If you're a seafood lover, this is the place for you! Brunch typically takes place from 11 am to 10 pm.
Experience the quirkiness of the Jax Beach Brunch Haus. This eccentric place offers an array of classic brunch dishes, including eggs, pancakes, and sandwiches. The beachy vibe is hard to resist, and their unique takes on brunch classics are a must-try. It's generally open for brunch from 8 am to 2 pm.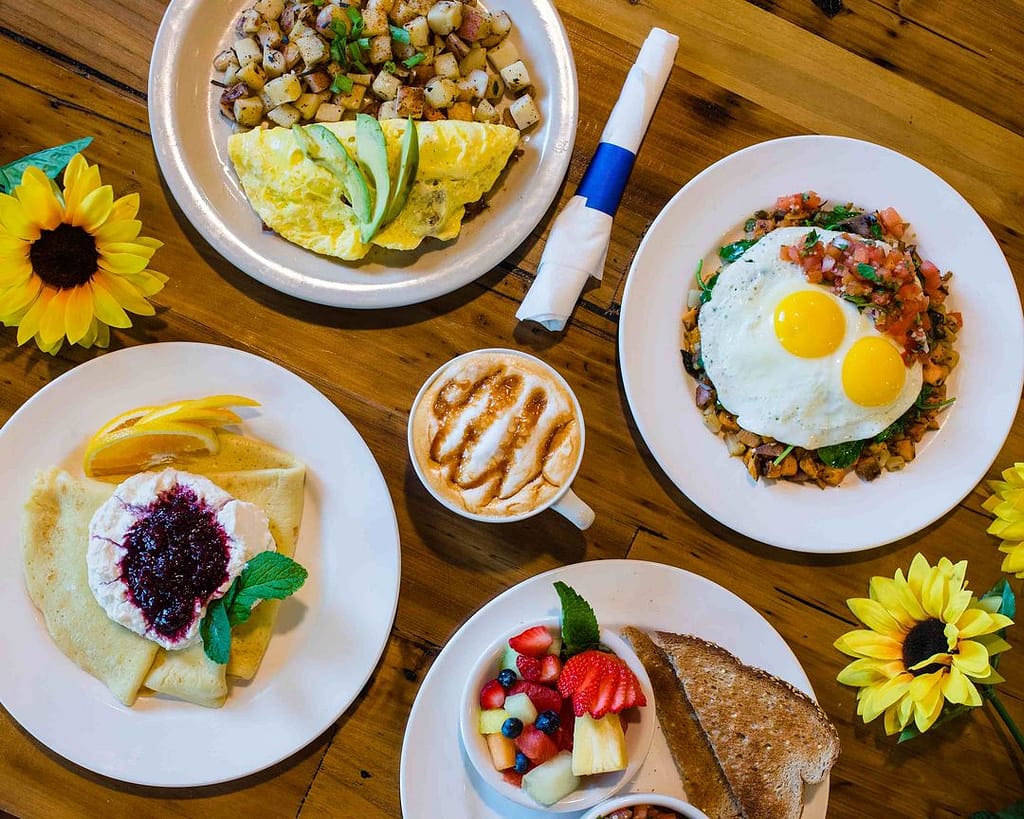 Finally, Ellen's Kitchen is a family-owned establishment known for its friendly service and delectable homemade food. It embodies a cozy, family-friendly brunch spot, serving classic Southern breakfast and lunch dishes. The doors are usually open from 6 am to 2 pm.
Please confirm the hours and offerings with each restaurant before visiting since they can change or differ at each location. Enjoy your brunch adventures in Jacksonville Beach!